---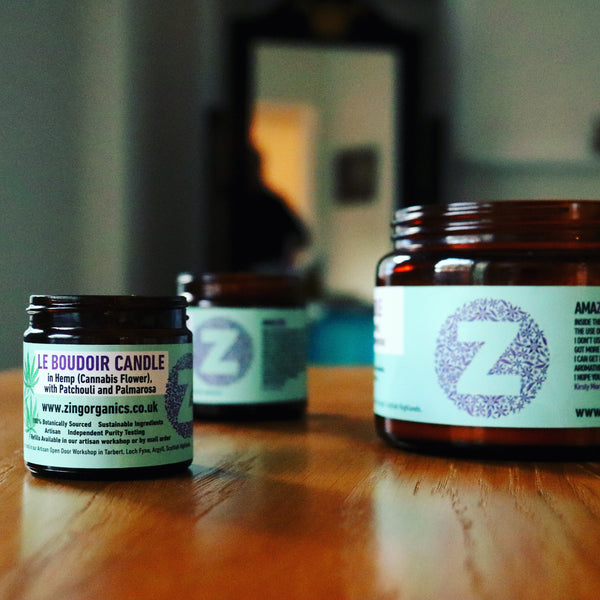 Le Boudoir Candle in Hemp (Cannabis Flower) and Patchouli with Palmarosa
Regular price £19.50
Purity Tested
'I did away with all synthetic fragrances years ago, not good for your health, same with all the Yankee candles, full of petrochemicals etc, so only use Zing Candles which have been purity tested at Strathclyde Uni.' - Jacqueline
Beautiful
'This is one of my favourite candles, although there are none that are not my favourite! The smell is absolutely beautiful. These candles last for such a long time and it certainly helps to nourish my soul. Thank you Kirsty.' -
-
Elaine
A 100% Botanically Sourced Aromatherapy Candle in a Seductive and Grounding aroma blend of Cannabis Flower, Patchouli and Palmarosa. A perfect candle to burn whilst enjoying precious time with your true love on a Lazy Sunday Afternoon.
-
Aroma Notes: A grown up and heady aroma accord with notes of Cannabis Buds, Lemony Citrus and subtle Smoky Roses.
The Cannabis Flower Essential Oil we use is derived from Hemp as opposed to Marijuana and contains only trace amounts of THC's (the product can't make you high) and is entirely legal in the United Kingdom. 
Ingredients: Non GM, Sustainable Soy Wax, Pure Essential Oils as stated. All Botanical. Vegan Friendly. Cruelty Free. Brand Purity Testing by The Chemistry Clinic at Strathclyde University of Glasgow.
Travel Size Apothecary Amber Glass Jar: 40 g wax. 12 hour burn time approx. One Wick.
Medium Sized Apothecary Amber Glass Jar: 80 g wax. 20 hour burn time approx. Small to medium sized rooms. One Wick.
Giant sized apothecary Amber Glass Jar: 40 hour burn time approx. Large rooms. 3 Wicks.
Refills available in our Open Door Workshop at Tarbert, Loch Fyne, Argyll or by mail order at 20% off RRP.
Nourishing your Soul with me Kirsty of Zing Organics.