---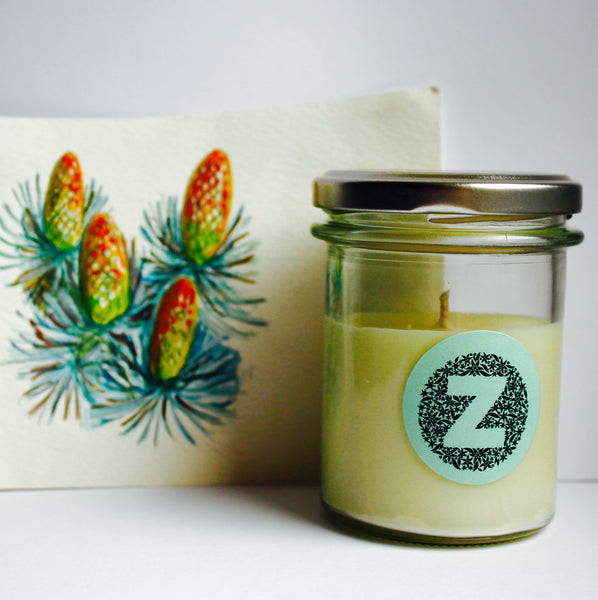 Well-Being Candles
Regular price £24.50
ORDER AND SERENITY HAS BEEN RESTORED
'Thank you Zing Organics. Order and Serenity has been restored!' - Anna on burning our Sleep Candle.
THERE IS NO SUBSTITUTE
The lovely package arrived! (of candles) I can now get rid of that horrible synthetic candle a well meaning friend bought. There's no substitute.' - Caroline
BRIGHTENS DARK DAYS
'I love the fresh Mood Boost (Cheery Not S.A.D.) scent. It brightens dark days and always leaves me feeling happier after burning for even a short while. I use it while practising Yin or Restorative Yoga and Yoga Nidra.' - Donna 
FOCUSED AND RELAXED 
'I have had my Zen Master candle burning all weekend while studying for my final exam! It has kept me focused and relaxed, I absolutely love it🤍💆🏽‍♀️' - Lorrie
IT SMELLS AMAZING
'It is special. It smells amaZing 
  just like my serum and mask - the smells lift your spirits every day x' - Gail on receiving a Love Light Joy and Positivity Candle as a condolence gift. 
A collection of All Botanical Candles in an host of aroma blends of Pure Essential Oils renowned for combating or easing a number of health conditions.
Cheery not S.A.D. - blend of Lavender, Geranium and Green Mandarin -  Essential oils renowned for alleviating depression and Seasonal Affective Disorder which can wreak havoc with one's well being during the long dark days. Difficulty sleeping, getting up in the morning, concentrating, feeling down and lethargic are but a few of the symptoms many endure. It's harder too in the city where the light hours are even fewer than in areas of low pollution.
Energise - Blood Orange with Siberian Fir and Scottish Highland Pine. Tackle that mid afternoon slump or adrenal fatigue with this pure essential oil blend of zingy oils renowned to re instate your get up and go.
Study - Rosemary with Spearmint. Inhaling Essential Oil of Rosemary is great for memory retention and cognitive function. Spearmint is revitalising and uplifting. - The Study Candle is the perfect student gift!
Clean Breathing - High Altitude French Lavender with Scottish Highland Pine. These Pure Essential Oils are widely reputed together to help clear the airways and provide an antibacterial and immune boosting function. 
Sleep - Lavender and Geranium with Roman Chamomile - (harmonising essential oils renowned to assist with achieving a deeper sleep - wake up fresh and start again with a clean slate!). Florals are also wonderful anti depressants especially when working in a synergistic blend like this, so can offset lowered mood and anxiety. Burn the candle for an hour or so in the bedroom and extinguish the flame before retiring to bed. 
Light, Love, Joy and Positivity - to offer support through Grief, Sorrow and Loss and assist Sustaining. Blend of a Stunning High Vibrational Absolute of Turkish Rose Damask, and Pure Essential Oils of Spanish Rosemary and Madagascan Black Pepper. Over the years we've helped support many customers and their loved ones through the most difficult times of bereavement, sorrow, loss or prolonged and severe health issues including cancer. Sometimes families are overwhelmed with gifts of fresh flowers which they can't fully appreciate at the time - that's why a candle is something they can keep and use at a time to suit them perfectly.
Free and Clear - A stunning uplifting aroma blend that marries pure essential oil of blue gum eucalyptus to keep the respiratory channels open and boost your confidence, with a simply lavish absolute of Turkish Rose that is instantly spoiling and nurturing to mind body and spirit. This glorious aroma blend as if my magic, sees the shoulders drop as you relax into a long overdue restorative afternoon. 
Zen Master - Cedarwood with Geranium and Patchouli
This opulent and deeply grounding aroma accord was made honouring all the work of the amazing Zen Master - the Vietnamese Monk -Thich Nhat Hanh - And we hope the candle aroma blend promotes deep meditation and hand holding on one's journey of enlightenment.
Ingredients: Sustainable Soy Wax. Pure Essential Oils as stated. Vegan friendly. Ethical gift. Biodegradable wax. Cruelty Free. 100% Botanically Sourced. Artisan. Open Door Workshop. Transparency. 
Formula entirely free of - Petrochemicals, Paraffin wax, Fragrance Oils, Phthalates, Dyes, Vybars.
Purity Tested successfully by the Department of Pure and Applied Chemistry at Strathclyde University - see FAQ page for more detail.
Classic Clear Glass Jar. Approximate Burn Time 25 hours. Super Size available - approximate burn time 50 hours - for this, please specify aroma blend desired in notes section at checkout.
At Zing Organics, we are committed to minimising packaging wastage. We offer 20% off R.R.P. on refills - available in our artisan workshop or online using code SENDREFILLS. You can switch fragrance blend if you wish.
If you are making a repeat purchase, we invite you to use code ANDAGAIN for a 10% loyalty discount.