---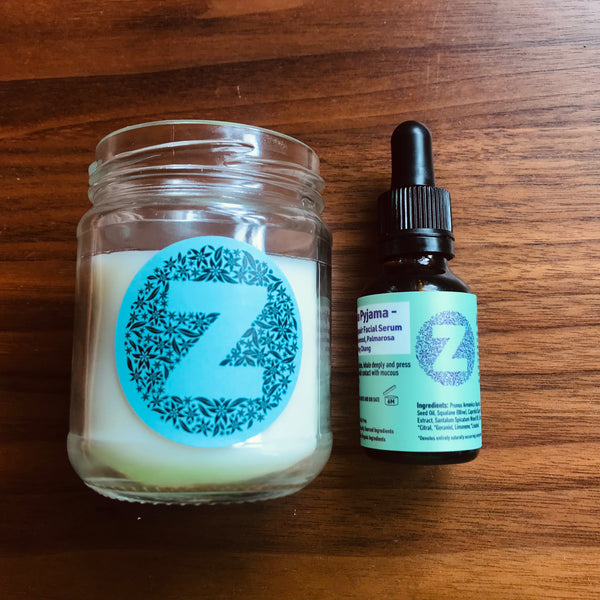 Sustainable Subscription Club
Regular price £29.50
For the month of December, may I present you with your hamper in the theme of 'Ultimate Indulgence'?
Inside find our most intensely moisturising Organic Body Oil - the Happy Hippie in the lavish aroma blend of Cannabis Flower with Patchouli, Geranium and May Chang. 
Presented in travel size of 25 ml. This is the body oil most popular for clients with super dry skin and those who love the lavish aroma blend. So intensely moisturising, it's even our customer's unsurpassed choice for tackling eczema and psoriasis! 
Mr Zing has created you the most sultry hampers exclusive candle in '

Sensual

' - Precious Absolute of Vanilla Pod with Ylang Ylang Flowers and Patchouli Leaf in chunky glass jar size with an approximate burn time of 25 hours.
Finally I'm including a few stunning organic rose buds from the valley of roses in Bulgaria. Drop one or two in your bath water to impart a faint but spoiling floral fragrance or alternatively drop one in each mug of sweet black tea to take your regular mid aftie brew to new levels!
Yes, I'm spoiling you big time this month as you deserve some loving attention at one of the busiest and often most stressful months of the year.
Sending you all my love, best wishes and appreciation as ever.
Our Sustainable Sub Box is £29.50 per month. Please order your first hamper here, and for subsequent months, I will send a link to invite you to join by direct debit. Please call me on 0797 2280029 with any queries.
There is no contract, and you can cancel anytime. However, given the exceptional value and the perks on offer and to be fair to our long term customers, we 
are not able to offer any skipped month's payments.
At Zing Organics we use only ingredients in our products from non endangered sources. Outer packaging is all re used, recycled or recyclable. Zing products are all presented in  glassware jars or bottles - never plastic - recycled or otherwise. Refills are available at 25% off RRP on all products presented in glassware to club members. We have to act now to protect our natural habitats and fragile eco system.
As a Sustainable Subscription Club Member, you'll receive a regular box/parcel of hand crafted all natural Zing Goodies specially curated by our Founder Kirsty to a minimum retail value of £50.00 per month.
Your hamper will be prepared, ready and dispatched within 5 working days of us receiving your initial and subsequent months' payment. 

Perks: As a Zing Lover's Club Member you will receive: -

1 . A personal discount code to enable you to redeem 20% against any additional individual items that you purchase either at the same time your hamper is dispatched or at other times of the month. 
2. A personal discount code of 10% off gift vouchers or e gift vouchers and workshops/therapies as available.
I look forward to welcoming you to our groovy sustainable sub club! 
Love Kirsty xx