---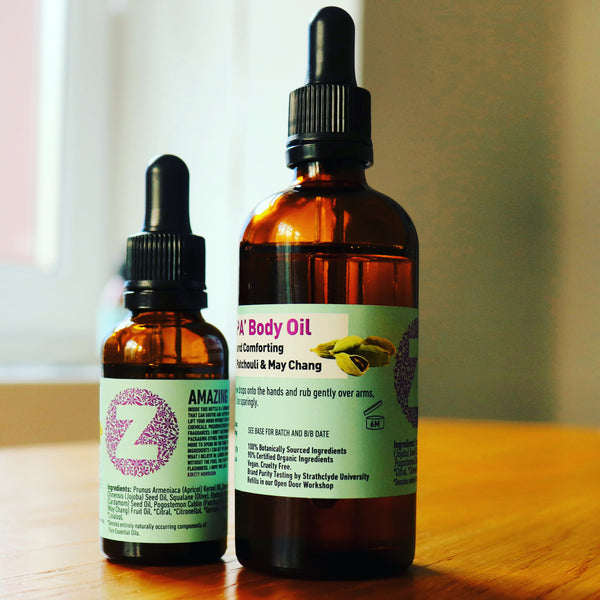 THE SPA Body Oil in Warming and Comforting Cardamom, Patchouli and May Chang
Regular price £22.50
'Spicy Goodness'
A wonderfully warming body oil. I love it after a swim.' - Donna
'Like a Big Warm Towel'
I love all of Kirsty's body oils for different reasons - this one is wonderful to soothe cramps, dispel cold mornings and make your skin and your bathroom smell amaZING!' - Laura
'Smells Fab!'
'The whole place, and me, smells fab after a massage using the product 💆‍♀️ xx' - Jacqui - Massage Therapist. 
'Nothing Better!'
'Oh my days...my order was delivered today. It felt like Christmas! Glorious aromas and there's simply nothing better than your skincare!' - Fiona
The Spa Body Oil in Warming and Comforting Essential Oils of Cardamom Patchouli and May Chang.
The Aroma Accord of Cardamom, Patchouli and May Chang is said by my customers to smell just like a Luxury Spa!
Aroma Notes: Exotic Oriental Spice - Deep Earthy - Sherberty Citrus
100% Botanically Derived.
90% Certified Organic Ingredients.
I devised this product to help clients unwind during full body massage in Boutique Eco Spas. It helps them feel pampered whilst ensuring their skin benefits from an intensive moisture surge from the base Organic Carrier Oils.
Middle Note Cardamom is the most costly and Opulent Spice second only to Saffron. We use Pure Essential Oil of Organic Warming and Comforting Cardamom Seed which is an effective antispasmodic to ease tired muscles, and is also a natural favourite post Winter Jog or Après Ski, as it's so warming. It's a natural diuretic so can help kick start a detox programme, as it may assist the client in combating water retention.
The top note of Zingy Sherberty Pure Essential Oil of May Chang is at once uplifting and renowned to aid in combating Nervous Exhaustion. Combine this with the sweet woodsy musky Base Note of Pure Essential Oil of Patchouli for a totally grounding experience. 
Regular Sized 80 ml bottle contains 80 pipette fulls.
Travel Sized 25 ml bottle contains 50 small pipette fulls.
Spa Sized 500 ml bottle allows for approximately 50 full body massages.
Ingredients:
Apricot Kernel Oil - Organic
Jojoba Oil - Organic
Squalane (Olive derived)
Pure Essential Oils of:
Organic Cardamom Seed 
Organic Patchouli Leaf
Organic May Chang Fruit
Vegan Friendly and Cruelty Free.
Presented in Classic Tall Italian amber glassware with elegant long glass pipette inserts. Spa Size may be provided with a shake top cap or a pump dispenser. Therapists - please advise which of the two you'd prefer. Thank you!
I am committed to helping minimise packaging wastage and invite you to use code SENDREFILLS for 20% off RRP in the case of refills. Otherwise in the case of a repeat purchase of this product, feel free to use code AGAIN to receive a 10% discount.