---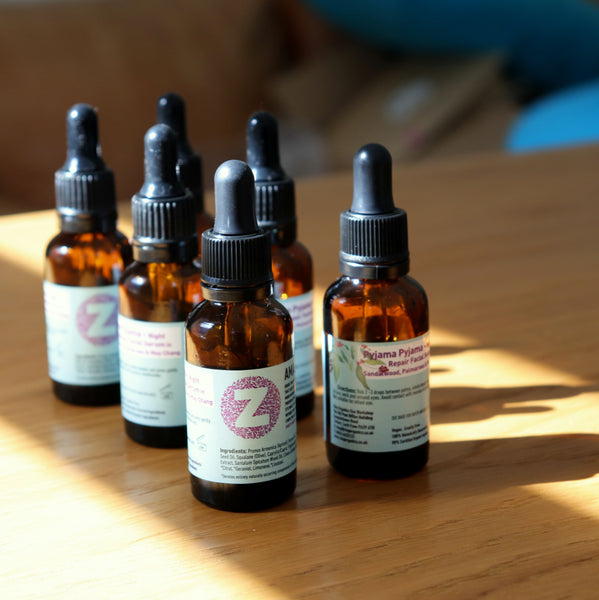 Pyjama Pyjama Night Repair Facial Serum in Sandalwood, Palmarosa and May Chang
Regular price £37.50
 MY TEMPERAMENTAL SKIN SAVIOUR 
'My temperamental skin saviour...My skin loves this nourishing, beautiful smelling oil. The sandalwood makes my shoulders relax when I take a deep breath whilst applying it. Even though I have blemish prone skin that likes to throw regular tantrums when it doesn't like products, this has done nothing but really great things.' - Holly
WHAT TOOK ME SO LONG?
'Have recently treated myself to the Pyjama Pyjama Serum & I have just one regret...
what took me so long!! 
All of your products are AmaZing & this is another new favourite! 
' - Jane
CLEARED UP MY SKIN
'I tried the night serum last night and it cleared up my skin so much in one night, I can't wait to keep using it and see the effects it has!' - Lisa
PROPERLY PLUMPED AND NOURISHED
'Hi Kirsty
Wow - I l already love this serum! It's so light to put on that I can smell more than feel it, but when I wake up in the morning my skin is so properly plumped and nourished - no mean feat as I'm usually pretty dry and struggle to get any real moisture in my skin. It smells absolutely amazing and I swear that it's making me sleep better... thanks so much! Also, beautifully packaged and the wee pebble was a lovely token of a beautifully special place ;) Can't wait to try some more bits soon and spread the word.
Thanks Kirsty - great work! Love Lynne x'
BEATS ALL THOSE EXPENSIVE SERUMS
'This is my favourite! Beats all those expensive serums from well known beauty brands hands down!' - Ali
WORKING A TREAT
'The Zing Organics Pyjama Pyjama is working a treat on my skin!' - Linda
GLORIOUS OIL
'I just absolutely love this product. I am not ready for a good night's sleep without this glorious oil on my face.' - Jacqueline.
ACNE SCARS DISAPPEARING
'Since using your pyjama serum I've actually noticed a huge difference in my skin, the scars from my past acne have almost disappeared!!! Before this I wasn't putting anything on my skin -  because I thought skincare products were a scam! But you have changed my mind!! - Such AMAZING quality too!' - Bonnie
An Intensely Moisturising Organic Night Repair Serum enhanced with a Collagen Boosting Seaweed Extract. Suited to all skin types.
Formulated to be applied at bed time to tackle wrinkles, crows feet, sagging and to deliver a plumped up effect and a radiant complexion as you wake in the morning. 
A powerful skin cell regenerating marine extract is derived from the seaweed Cylindrotheca Fusiformis cultivated in a carbon neutral facility in Italy. At the concentration used, tests demonstrate increased collagen synthesis of 17% within three days compared to an untreated sample!
The exquisite Organic Pure Essential Oil combination possesses vast Skin Cell Hydrating and Smoothing benefits and also imparts the most luxurious aroma which may soothe, ground and settle you and help you drift into a peaceful slumber.
Aroma Notes: Soft Buttery Musky Woods/Powdery Rose/Green Citrus.
The product incorporates multi functional botanicals and organic ingredients renowned for delivering rapid and dramatic skin softening and smoothing effects. 
The Ritual: Each evening take two or three drops and rub between clean palms and press gently into the face, neck and around the eyes. For a weekly full facial massage you may require around 10 drops. At all times we encourage mindful inhalation of the stunning Pure Essential Oils incorporated in the product.
100% Botanically Sourced.
Contains 90% Certified Organic Ingredients.
Vegan Friendly.
Cruelty Free.
Ingredients:
Organic Apricot Kernel Oil.
Organic Jojoba Oil.
Olive Squalane.
Caprylic/Capric Triclyceride (natural coconut and glycerine derived dispersing agent for active Cylindrotheca Fusiformis Marine Extract)
Cylindrotheca Fusiformis Extract
Organic Pure Essential Oil of Australian Sandalwood - Santalum Spicatum. Grounding and Confidence Building.
Organic Pure Essential Oil of Nepalese Palmarosa. It combats the Blues and Morning Fatigue.
Organic Pure Essential Oil of Vietnamese May Chang. Eases Breathing and Anxiety. Combats Nervous Exhaustion.
Origin of Pure Essential Oils may vary from harvest to harvest.
Presented in a stunning branded amber glass apothecary style bottle with pipette insert for ease of applying minimal amounts. 
Refills available at 20% discount against RRP in our Open Door Workshop at Tarbert, Loch Fyne, Argyll or by Mail Order.