---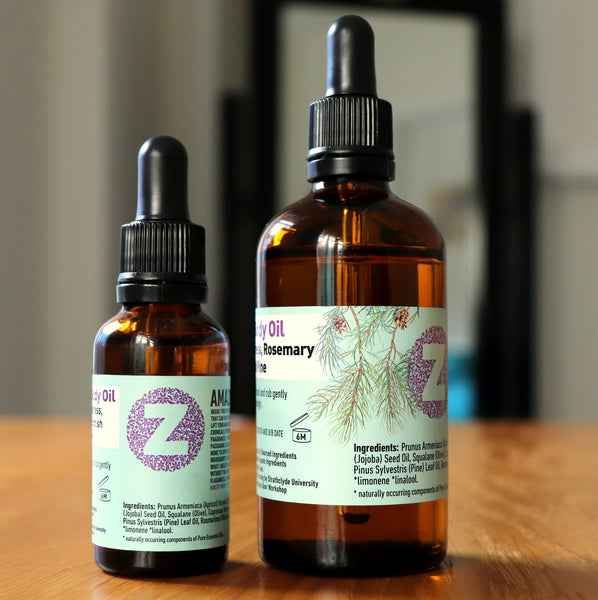 THE PHOENIX Body Oil in Energising and Detoxifying Cypress, Rosemary and Scottish Highland Pine
Regular price £22.50
A REVELATION
Paul (Hubby) has psoriatic arthritis and numerous other inflammatory issues. Yesterday I massaged his aching jaw with the Phoenix oil and then his poor feet and ankles. Last night was the first full night's sleep he has had for ages. The smell is amazing and fresh yet relaxing and for a man who cannot relax due to pain, that says something. I have a swollen shoulder cuff and can't use Deep Heat and rubs like that but the Phoenix eased all that tension...thus easing my tinnitus. I cannot tell you how much I love your stuff, they are a revelation. Thank you
THANK GOODNESS FOR IT

'Thank goodness for post run, post shower energise body oil!' - Jayne
AFTER HILL WALK EASING
'I have recently been using the Phoenix body oil on my knees after walking in the hills and it is certainly helping to ease them after exercising. Difficult to pick out a favourite product so far as everyone is an absolute joy to use. Many thanks and warmest wishes to you. Sue x'
-
YOU ARE KEEPING ME GOING
'I have (the) Phoenix beside me all the time.  You are keeping me going without even knowing!! Anyway, enough rambling on.....back to work for me!! - Elaine
Product info: - 
AND RISE AGAIN FROM THE ASHES MY PHOENIX!
'I formulated this product to help tackle inflammation and pain after intensive bouts of exercise or to assist clients in recovery post op/injury after an enforced period of lack of mobility.' - Kirsty, Founder, Zing Organics.
The aroma blend is devised to energise and help with confidence building. Ingredients help our customers with poor circulation, water retention or in tackling/preventing cellulite. The luxurious body oil contains a powerhouse of ingredients renowned to combat - 

* muscle fatigue and aches
* swelling and inflammation of joints
* cellulite

* poor circulation and varicose veins
* water retention
* lack of energy and motivation
and aiding
* pain relief
* detoxification
The aroma blend is considered helpful for boosting mood and adrenal fatigue and aids mental clarity and concentration.
Aroma Notes: Bracing Herbal - Warm Musky Resins 
In all cases we encourage mindful inhalation of the sublime pure essential oils contained in the formulation. Rub between the palms and inhale before applying to the skin.
100% Botanically Derived.
90% Certified Organic Ingredients.
Ingredients:
Apricot Kernel Oil - Organic
Jojoba Oil - Organic
Squalane (Olive derived)
Pure Essential Oils of:
Cypress Leaves
Rosemary Leaves and Flowers 
Ancient Wild Highland Pine Leaves
Vegan Friendly and Cruelty Free.
Presented in Classic Tall Italian amber glassware with new elegant long glass pipette inserts. Therapists may prefer a pump or flip top dispenser. 
Refills available in our open door workshop or by mail order. Use code SENDREFILLS for 20% off refills. Use code AGAIN for 10% off in the case of a repeat purchase for this product.
Please note that this product contains essential oils that are not suitable during pregnancy and may not be suitable in cases or breastfeeding, for with other medical conditions. Always seek the advice of your medical professional.