---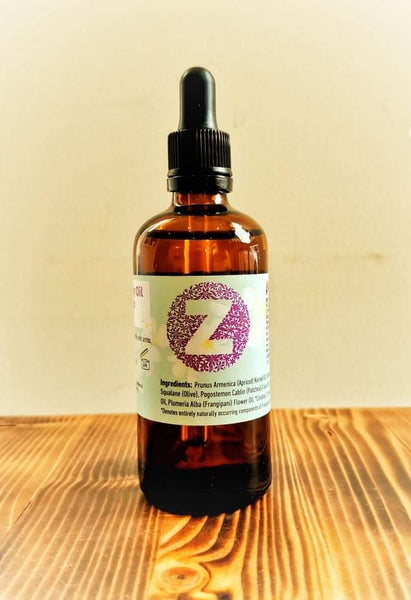 Love you Forever Body Oil in Evocative Frangipani with Cedarwood and Patchouli. Limited Collection.
Regular price £29.50
Use it as a perfume
'I have particularly enjoyed using the 'Love You Forever' body oil but as a perfume and occasionally as a treat for my hands. It really is a most beautiful scent and I even put a drop on the ends of my hair.' - Sue 
So Uplifting
'I absolutely love this oil. It is so uplifting.' - Elaine - Stonehaven
My Favourite
'LOVE IT! Would definitely get it again, my favourite perfume oil now😊💗' - Lorien 
For a treat
Beautiful scent! I use this for a treat xx - Laura - Glasgow
Frangipani is a tropical floral which has an utterly sensual aroma. Frangipani symbolises the Immortality of the Soul in India and we loved the idea of conjuring everlasting love in a botanical aroma accord. Love you Forever is a potent aroma blend and you're likely to use this as a perfume applied in traditional style very very lightly to the neck and pulse points rather than as a body oil treatment. You'll find yourself swirling a few drops into the running bath water to unwind at night time. It's a head turner baby and drives men wild! The Frangipani Absolute that we have is one kept only for very special occasions. 
Label is adorned with a garland of vibrant yellow frangipani flowers. The flowers contrast beautifully and naturally against our skincare brand's classic soft teal tone.
A delightful gift from one lover to another. For those heady days and sultry nights of love.
Vegan. Cruelty Free. 90.4% Certified Organic Ingredients
Ingredients -
Organic Apricot Kernel Oil
Organic Jojoba Oil
Olive Squalane
Frangipani Absolute
Cedarwood (Atlas) Essential Oil
Patchouli Essential Oils
Sizes -
Regular - 80 ml - 80 large pipette measures. Presented in tall Italian style Glassware. Glass pipette dispenser.
Frangipani is one of the essential oils to avoid using in pregnancy.  If pregnant or if you have a health condition or are taking medication, always consult a medical professional or aromatherapist for advice before using essential oils.