---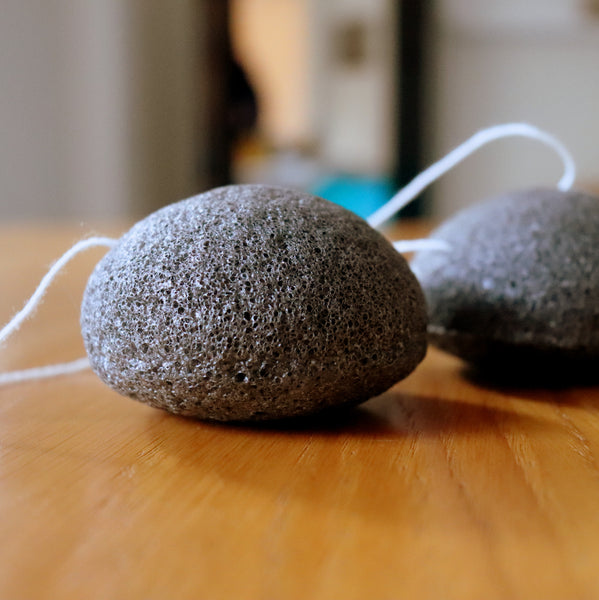 Konjac Sponge Cleanser and Exfoliator
Regular price £7.50
CLEANSE AND EXFOLIATE
Konjac is a Natural Plant Sponge that works beautifully as a gentle Cleanser and Exfoliator. Immerse it in warm water until it softens. Press (don't wring) the sponge to remove excess water, then in very gentle circular motions rub the skin from neck up to the forehead. The sponge is infused with activated charcoal - a wonderful product for detoxifying the skin. You'll find the sponge releases a natural cleansing foam. Concentrate on the oilier areas of the skin like the nose and the chin. A wonderful tool for gently cleansing the eyebrows where bacteria flourishes. 
More suited to oily skin types as it helps remove toxins and oils to clear blemishes and draw out blackheads. We'd suggest never using this product more than once a week. Over exfoliation can lead to dryness in mature and dry skin or ironically excessive sebum production in young and/or oily skin. Our Eco Marine Algae Facial Cleansing Masque should be your go to daily cleanser for the majority of skin types.
The Konjac Sponge is a wonderful item to have in your gym or travel kit as if you forget your cleanser you only need to re hydrate this and you're good to go.
Between uses leave hanging to on it's cotton string to dry out. Look after your Konjac Sponge and you'll enjoy a hundred washes with it.
TONE
Follow with a spritz of our Rosy Glow Facial Toning Mist in Organic Bulgarian Rose to rebalance the relatively high pH of the tap water used to a slightly acidic pH consistent with the natural protective acid mantle of the skin. 
https://www.zingorganics.co.uk/collections/skincare/products/rosy-glow-facial-toning-mist-of-organic-bulgarian-rose
MOISTURISE
Then follow up by applying a couple of drops of your favourite Zing Organics Facial Serum to add moisture and plump (also of a pH consistent with the protective acid mantle of the skin).
https://www.zingorganics.co.uk/collections/skincare
Unlocking your Innate Natural Beauty and Nourishing your Soul with me Kirsty of Zing Organics.