---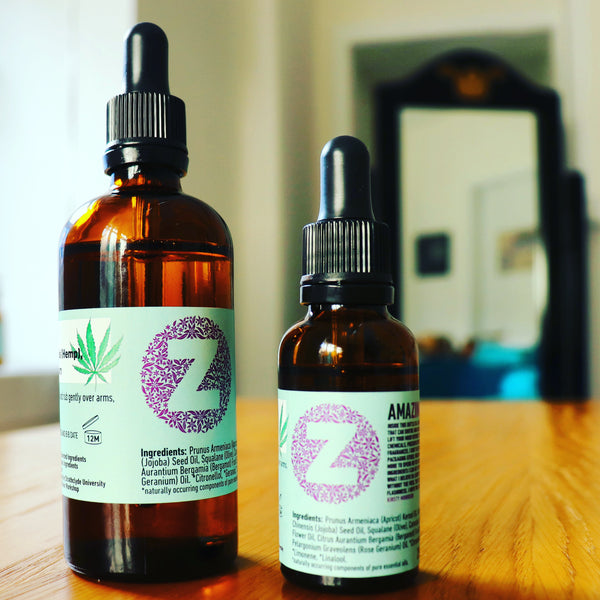 Ah There! Body Oil in Soothing Cannabis Flower with Bergamot and Rose Geranium
Regular price £24.50
INCREDIBLE AND POWERFUL PRODUCT
'I have been helping out one of my relations who has been in terrible pain.
Everyone has been so helpful, but I have to put a big shout out to Kirsty Morrison from
Zing Organics 
who created an oil that she can inhale and we can use for massage to help soothe and heal.
It is so special to be able to call and say HELP and next thing you have this incredible and powerful product.' - Lilia.
-
HELP SO MUCH WITH MY ECZEMA
'I'm ordering Spa sizes of the Happy Hippie and Ah There (body) oils. They help so much with my eczema.' - Sofia
-
STEROID INJECTIONS NO MORE
'I hadn't been able to see my Doctor (due to Covid restrictions) for steroid injections for pain in my arms. I tried this and I don't need them any more!' - Maggie
-
SCAR HEALING
Hi, Kirsty, I am 74 and the oil I bought in Tarbert has been used to treat dry skin on my face, plus to heal things like a scar from a fall and as a skin treatment on my hands and neck.  I love this oil!!  Thanks again.' - Meg
-
SMELLS DIVINE
'I've found it indispensable with the scar healing, plus, it smells divine, what's not to love ?' - Jacqueline
-
A HUG IN A BOTTLE
'A hug in a bottle. This is a bottle of comfort and cuddles. Great for too much sun and to help you feel calm and soothed. I am never without this.' - Elaine
-
AIDS SLEEP
'May as well throw my hat in the ring 😁😁😁 love using body oil at bed time, not sure if it's meant to aid sleep but does for me so win win.'- Karen 
-
 CALMING PSORIASIS
'Fantastic for calming my psoriasis.' - Morag
-
DELICIOUS SMELLING
'Absolutely adore this oil. Without a doubt one of most delicious smelling body products around.' - Tara
-
PAIN FREE FEET
'I was getting pain in my feet a few weeks ago, and Ah There was the one that eased that. It is the best! Pain free feet! xx' - Elaine
The aroma accord of Cannabis (Hemp), Bergamot and Rose Geranium is sure to uplift and make you feel nurtured. Aroma Notes - Marijuana/Green Citrus/Soft Rose Floral 
100% Botanically Derived.
90% Certified Organic Ingredients.
'I formulated this product as a top end skincare product for our clients with highly sensitive skin or those struggling with impaired skin barrier function e.g. with psoriasis and eczema, and it has proved helpful for pain relief in some instances too. Inhaling products containing pure essential oil of cannabis flower has in studies been shown to be intensely releasing and relaxing on an emotional level.' - Kirsty, Founder, Zing Organics.
So intensely moisturising, you will require only a few pipette fulls per full body application.
The Cannabis Flower Essential Oil we use is not a marijuana derivative and is entirely legal in the United Kingdom. As with all our organic skincare products, the Ah There! has been fully approved compliant by a leading chartered cosmetic chemist.
Ingredients:
Apricot Kernel Oil - Organic
Jojoba Oil - Organic
Squalane (Olive derived)
Pure Essential oils of:
Cannabis Sativa Flowers and Leaves Wild Crafted - France
Bergamot Peel - Bergaptene free - Italy
Rose Geranium Flower and Leaf - South Africa
Depending upon harvests and batches - the provenance of ingredients may change from time to time.
Vegan Friendly and Cruelty Free.
Presented in Classic Tall Italian amber glassware with new elegant long glass pipette inserts. Therapists may prefer a pump or shake top dispenser.
Available in three sizes. Sizes depicted in image are 25 ml Travel Size and Regular 80 ml Size.
At Zing Organics, we are committed to minimising packaging wastage. We offer 20% off R.R.P. on refills - available in our artisan workshop, or online using code SENDREFILLS.
If you are making a repeat purchase, we invite you to use code ANDAGAIN for a 10% loyalty discount.