---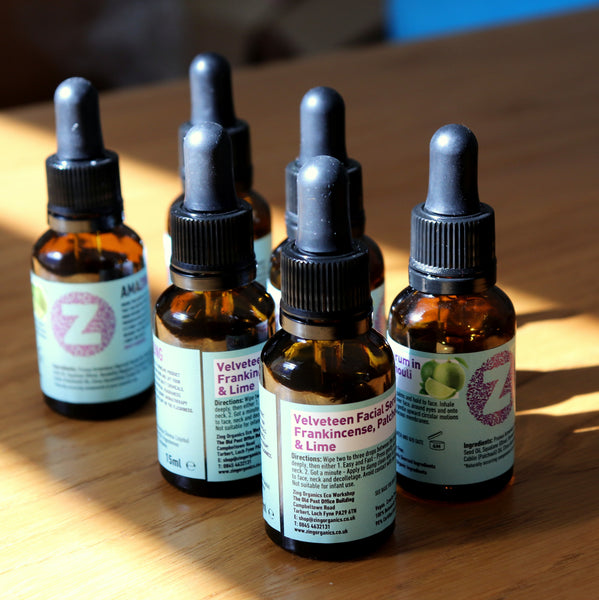 Velveteen Facial Day Serum in Frankincense, Patchouli and Lime
Regular price £29.50
I'm 72 and Have Never Been so Hydrated
'I bought the velveteen serum on the way to Islay and my skin has never been so hydrated. I'm 72 years old and have spent many years sailing so I can't wait to try more (products)! 
Best 
Anne'

Will Never Use Anything Else
'Can't recommend this highly enough. I made the switch from a face cream 2 years ago and will never use anything else. Love this stuff. My skin has never been better.  Love how Zing do refills too.' - Emma 
Best Magic Potion Ever
'Best Magic Potion Ever' - Eleanor
My Skin Looks and Feels Amazing
'Beautiful product! I use a few drops of this every day after the eco marine cleansing masque (cleanse) and my skin looks and feels amazing. Lasts for ages as you hardly need any of it and smells glorious.' - Laura 
Addicted
'I have been the lucky recipient of gifts of your products from my lovely friend for years, and I have realised I am now addicted to them - the facial oil particularly. So I am placing my first order for myself. Long overdue.' Thanks Lisa
48 Hour Transformation
'
Received
my package on Saturday morning, believe it or not my skin feels so much better even though I have just started using your serum.' - (by Monday evening) - Theresa
My Favourite Serum
'I love the Velveteen serum ! It is easily absorbed , and my skin feels fabulous afterwards. The scent is lovely too. I am delighted that I discovered the shop on a sailing holiday around Tarbert, and can re-order online.'  - Gillian 
 Zing Organics Serums for Me
'I've chucked the "luxury" branded moisturisers. Told you before, they just sit on the skin and can be rubbed off easily, as they do not do what is promised - they're a bit like snake oil salesmen. - (It's) Zing Organics Serums for me.' - Jacqueline.
The Lavish Serum is an infusion of only six powerful botanical oils including Jojoba, Frankincense and Lime. 
The ingredients boost cellular regeneration and are skin firming creating plump, whilst combating wrinkles and protecting against free radicals.
The texture is light with a subtle but at once uplifting aroma. 
By morning or afternoon. Take two to three drops and press into the face, the neck and around the eyes. For a facial massage you may require 6-8 drops.
Aroma notes: - Zingy Citrus/Soft Woods/Earthy
100% Botanically Sourced Ingredients
90% Certified Organic Ingredients
Vegan and Cruelty Free
Ingredients:
Organic Apricot Kernel Oil.
Organic Jojoba Oil.
Olive Squalane.
Organic Essential Oil of Frankincense (ethically harvested) - Kenya
Organic Essential Oil of Patchouli
Essential Oil of Distilled Lime 
Regular Size - 15 ml. Large size - 30 ml. Spa Size - 80 ml. 
Presented in a stunning branded amber glass apothecary style bottle with pipette insert for ease of applying minimal amounts. 
Refills available at 20% discount against RRP in our Artisan Workshop at Tarbert, Loch Fyne, Argyll or online using code SENDREFILLS
If this is a repeat purchase for you, we invite you to use code ANDAGAIN for a 10% loyalty discount.