---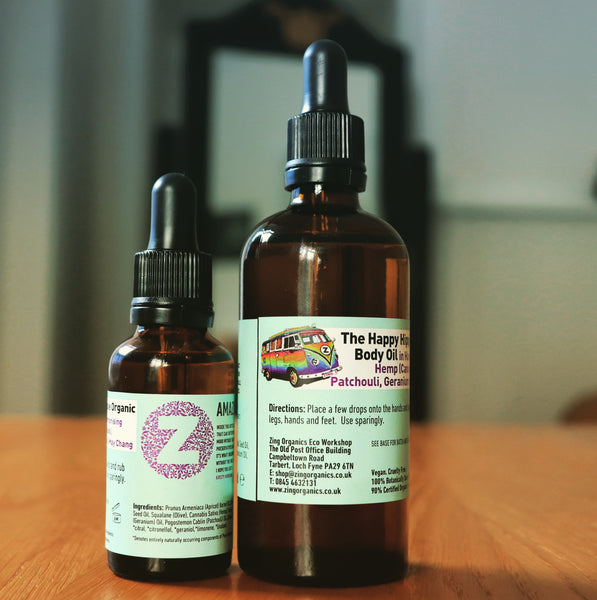 The Happy Hippie Organic Body Oil in Harmonising Hemp (Cannabis Flower), Patchouli, Geranium and May Chang
Regular price £24.50
'Amazingly Healing!'
I was struggling to manage eczema on my hands, which were dry, cracked and very itchy. I'm fortunate to live close to the Zing workshop, and Kirsty took the time to work through a couple of samples with me to see which of her amazing products would be most effective. We settled on the Happy Hippie body Oil, and after only a few days of using it my hands are healing!! I can't recommend this body oil enough!! - Anna
-
'Sounding Dramatic'
At the risk of sounding dramatic, my hands feel and look totally transformed. I'm amazed. I stopped using steroids to treat my eczema many moons ago but even those never worked this well. 
Thank you so much! 
I am using the happy hippy specifically on my hands and the soothing (Ah There!) body oil on the rest of my body. I had started to get a couple tiny patches on my elbows and knees - those are gone too. Have a wonderful day.' - 
Sofia
-
'Little Gem'
I found this gem of a product quite recently which is produced locally in a little fishing village near our cottage in Scotland. It's made by Zing Organics
 using beautiful ethically sourced essential oils. This one was recommended to me by the lovely owner Kirsty as I have psoriasis. It has completely cleared it up on my elbows (which is where I mainly have it) by using a little bit rubbed in daily. The itchiness on my skin has gone. It's amaZING! This isn't an ad just an appreciation of a lovely product made by a small independent company based on the West coast of Scotland. They do refills too at a reduced cost using their sustainable glass bottles. If you have skin issues or just dry skin it's worth a try.
' - Marie. 
'
-
Truly Transformative'
-
'We love this product in our house and it is truly transformative on our daughter's eczema 👏' - James 
-
'I Wish I'd Taken a Before and After Photo' 
-
'This is only the third day and it has already made a huge difference, I wish I had taken a before and after photo!'  We will definitely be making a return when I have ran out 🥰🥰  they (my Mum and Dad) loved meeting you, and were so impressed with your products♥️' - Emily. 
-
'Achy Knees'
-
'I use it for achy 
knees
 especially if I've been walking, I just rub it in every night.' - Annie
'My Favourite!'
'My favourite, always lifts me in the morning, love the aroma x' Jacqueline
-
Intensely moisturising body oil suited for very dry, irritated or mature skin.
Incorporates unrefined Apricot Kernel Oil which is ultra moisturising - an initial soft buttery marzipan note from this product lifts to reveal the exquisite pure essential oil aroma accord - one that evokes the era of peace and love - hence the name Happy Hippie!
100% Botanically Derived.
90% Certified Organic Ingredients.
Pure Essential oil of Cannabis Flower (Hemp) is renowned to be highly suited to sensitive skin types and I receive consistent feedback that it eases stubborn skin conditions including Psoriasis, Eczema and fungal infections .
You won't often see a body oil using base organic oils that are normally reserved for inclusion in high functioning natural and organic spa facial products such as this. The texture of the product is non greasy - more of a gliding wax feel.
The Wild Crafted Cannabis Flower Essential Oil of Normandy that I use is not a marijuana derivative and contains only trace amounts of THC's (the psychoactive compound associated with marijuana), thus you may derive an host of healing benefits to body and mind without concerns of breaking the law!
Ingredients:
Apricot Kernel Oil - Organic
Jojoba Oil - Organic
Squalane (Olive derived)
Pure essential oils of:
Cannabis Sativa Flowers and Leaves Wild Crafted - France
Patchouli - Organic - of Indonesia
Geranium - Organic of France
May Chang - Organic of Nepal
Origin of Pure Essential Oils may vary from time to time.
100% Natural Ingredients. 90% Certified Organic Ingredients.
Vegan Friendly and Cruelty Free.
Presented in Classic Tall Italian amber glassware with new elegant long glass pipette inserts. A flip lid or pump presentation may be preferred - please advise if this is required.
I am committed to minimising packaging wastage and rewarding customer loyalty. I offer 20% off R.R.P. on refills - available in our artisan workshop or online using code SENDREFILLS. 
If you are making a repeat purchase, I invite you to use code ANDAGAIN for a 10% loyalty discount.