---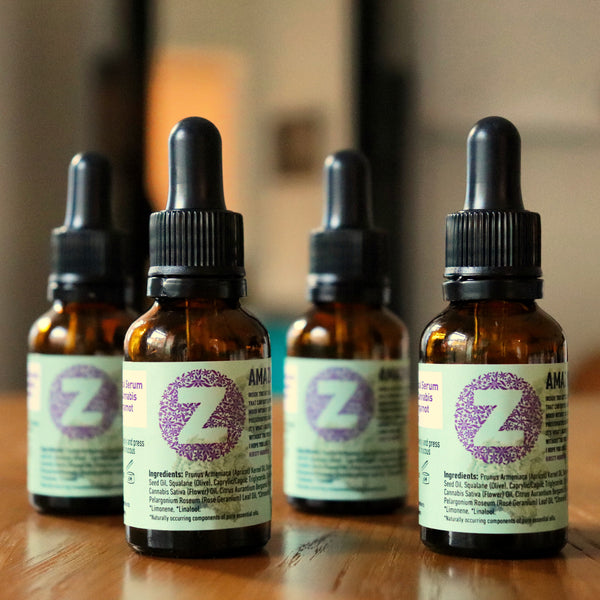 Budding Beauty Facial Serum in Restorative Hemp (Cannabis Buds) with Bergamot and Rose Geranium
Regular price £37.50
THE BEST CONTROL OF ECZEMA
'I'm still astounded that ending up in Tarbert enabled me to find some amazing skin care products. The best control of eczema I've had are from your products. Cheers.' - Jamie
MAGIC AT WORK
'Wow, my skin feels like it's been gently kissed all over! There is some magic at work here, just amazing! Love Sam x'
-
TOTAL GAME CHANGER
'Total game-changer!! Budding Beauty has addressed ALL of my (pretty complex) skin concerns - fine lines, dryness, eczema and inflammation. Worth its weight in gold!!' - Anna 
MY SKIN'S NEW FAVOURITE THING

Budding Beauty serum is my skin's new favourite thing. When I first started to use it my skin would drink it in and I would apply a bit more. Now I don't need to apply as much, but am still ordering my second bottle! My skin has become a lot drier over the past couple of years, with redness on my cheeks, and working in an air conditioned office doesn't help! My cheeks are feeling less tight and much softer now. As always Kirsty has made another amaZing product. You really do put the care into skincare. Thank you!!' - Elaine
SO RICH AND MOISTURISING
'Love it - smells and feels amazing - so rich and moisturising xx' - Morag 
An intensely Soothing and Moisturising Organic Facial Serum packed with Active Botanicals including a Marine Extract with significant Proven Collagen Boosting function. Suitable for day or night treatments.

I formulated the Budding Beauty Organic Facial Serum in response to the phenomenal success of our other Organic Skincare Products containing Cannabis Flower (Hemp) Essential Oil where customers note significant healing of irritated and aggravated skin conditions like eczema and psoriasis and scarring. However given the nature of the ingredients, many customers are simply using this as an anti ageing beauty moisturiser with a glorious at once uplifting aroma.
The Cannabis Flower Essential Oil I use is derived from Wild Crafted French Hemp as opposed to Marijuana and contains only trace amounts of THC's (the product can't make you high) and is legal in the United Kingdom.
Aroma Notes: Marzipan -Marijuana - Sweet Lemony - Soft Roses 

The product incorporates multi functional botanicals and organic ingredients renowned for delivering rapid and dramatic skin softening and smoothing effects. 
The Ritual: Take two or three drops and rub between clean palms and press gently into the face, neck and around the eyes. For a full facial massage see our You Tube Channel.
At all times I encourage mindful inhalation of the stunning Pure Essential Oils incorporated in the product.
100% Botanically Sourced.
Contains 90% Certified Organic Ingredients.
Vegan Friendly.
Cruelty Free.
Ingredients:
Organic Apricot Kernel Oil.
Organic Jojoba Oil.
Olive Squalane.
Caprylic/Capric Triclyceride (natural coconut and glycerine derived dispersing agent for active Cylindrotheca Fusiformis Marine Extract)
Cylindrotheca Fusiformis Seaweed Extract - A powerful skin cell regenerating marine extract is derived from the seaweed Cylindrotheca Fusiformis cultivated in a carbon neutral facility in Italy. At the concentration used, tests demonstrate increased collagen synthesis of 17% within three days compared to an untreated sample!
Pure Essential Oil of Wild Crafted Hemp (Cannabis Buds) of Normandy
Pure Essential Oil of Rose Geranium of France - Organic
Pure Essential Oil of Bergamot (FCF) - Organic - of Italy
Origin of Pure Essential Oils may vary from harvest to harvest.
Regular Size - 15 ml. 
Large Size - 30 ml.
Spa Size - 80 ml..
Presented in a stunning branded amber glass apothecary style bottle with pipette insert for ease of applying minimal amounts. 
At Zing Organics I am committed to minimising packaging wastage. That's why I invite you to use code SENDREFILLS for 20% off RRP in the case of refills. I am also  appreciative of our customer loyalty and otherwise invite you to use code ANDAGAIN for 10% off RRP in the case of a repeat purchase of this product.