---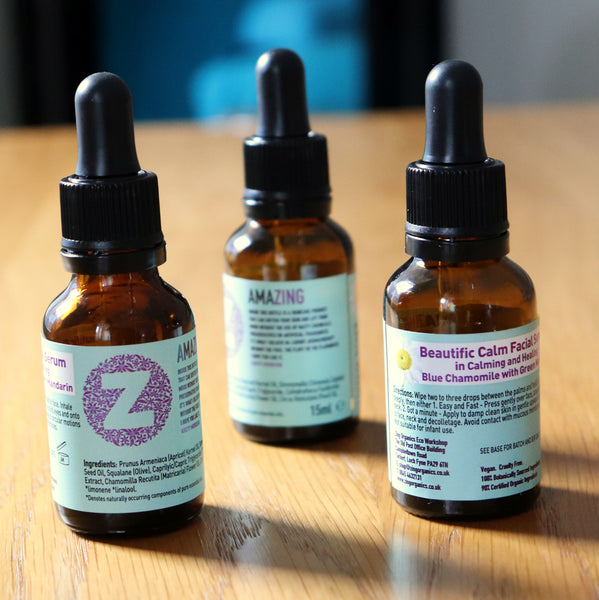 Beautific Calm Organic Facial Serum in Calming and Healing Blue Chamomile with Green Mandarin
Regular price £35.00
'Soothing and moisturising for fragile skin. I love it. And it smells amazing.' - Donna
'Hi just wanted to say I'm loving my serum I bought from you between Christmas and New year, my skin is soft and redness reduced, I absolutely love the smell and it's lasting really well too ❤️ (we stopped with the caravan) xx' - Dawn
'I use the BC on face and skin that's had a lot of sun. Love the scent and the calming effect too xx' - Laura
I WOULDN'T USE ANYTHING ELSE 
This product is lovely - my skin tends to be a bit dry and the oil gives it a really nice moisturised feel. I've been using zing products for some time now and I wouldn't use anything else. Highly recommend and thanks to Kirsty for producing such a great range of products.' - Martina
'I really like using this facial oil because it soothes my skin, and leaves it hydrated, and I have definitely noticed a difference, my skin is a lot clearer and healthier now.' - Stephanie
'Calmed my face right down when it was burned with the pollen! Thank you! Love it so much 
' - Sheena
Beautific Calm Organic Facial Serum in Calming and Healing Chamomile with Green Mandarin.     
The title reflects the undisputed beauty enhancing capacity of Chamomile and its soothing calming and healing properties. Perfect for ultra sensitive skin prone to redness, dryness, puffiness and allergic reactions. Chamomile is also probably the most highly regarded essential oil to tackle anxiety and nervous exhaustion upon inhalation.
We use German (Blue) Chamomile so termed as it is in fact blueish in colour! Sweet and Zingy Green Mandarin Essential Oil balances out the faintly bitter grassy herbaceous note of Chamomile and is also a gentle oil with calming and cheering properties. 
The potent anti ageing marine extract Cylindrotheca Fusiformis at concentration used, effects collagen synthesis of 17% within three days compared to an untreated sample!
Only 2 - 3 drops are required per application. 
Presented in classic amber glass apothecary style bottles.
Complete list of Ingredients:
*Organic Apricot Kernel Oil
*Eco Marine Algae Active Collagen Boosting Extract of Sustainably Harvested Cylindrotheca Fusiformis of Italy
*Pure Essential Oil of Organic Blue Chamomile
*Pure Essential Oil of Organic Green Mandarin.
90.5% Certified Organic Ingredients
15 ml presented in 25 ml or 30 ml capacity bottle.
30 ml presented in 30 ml capacity bottle.
80 ml presented in 100 ml capacity bottle.
At Zing Organics, we are committed to minimising packaging wastage. We offer 20% off R.R.P. on refills - available in our artisan workshop, or online using code SENDREFILLS.
If you are making a repeat purchase, we invite you to use code ANDAGAIN for a 10% loyalty discount.