---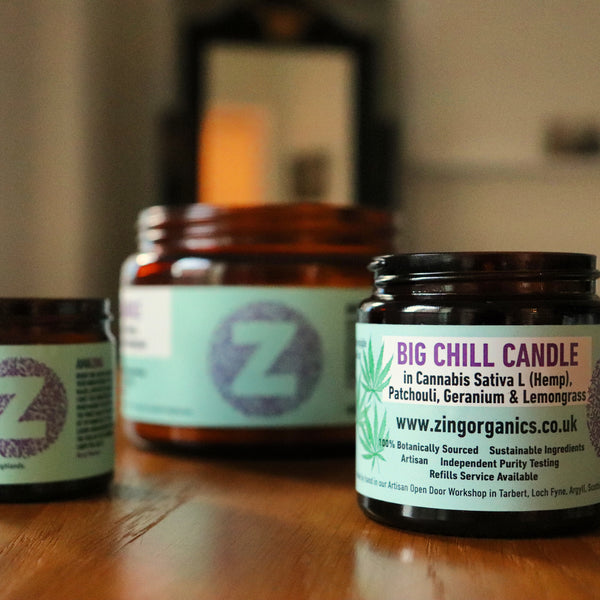 The Big Chill Candle in Cannabis Flower, Patchouli, Geranium and Lemongrass.
Regular price £19.50
'Stress Free Sleep'
'I have come to rely on my Big Chill Candle in the last few weeks throughout a busy and stressful time. I have incorporated it into my night time routine along with the Ah There!  Body Oil helping me to unwind and truly relax after a busy day aiding a good night's sleep. Nothing could beat it - thanks Zing Organics for a stress free sleep.' - Lorrie
'Helping middle aged menopausal sleep issues,'
Absolutely love it and it's definitely helped my middle aged menopausal sleep issues!!' - Karen
'They will save the world.'
If you have never tried Zing Organics BIG CHILL candles, get one! They will save the world and are totally legal....... #ChillingOut #WowBetterThanAVisitToAHippyPeaceCamp - Nicky

'Chilling Me Out'
'First time trying this wonderful candle , the smell carries around the room and beyond and is actually chilling me out more than my red wine does😁❤' - Donna

 'Big Chill by name, Big Chill by nature'
'A fabulous candle that does just what it promises. Delivers an uplifting and relaxing scent. I don't use any other candles except Kirsty's as the pure oils and beautiful blends are perfectly balanced.' - Laura 
'Really help Chill my Mood'
'Relaxing scented candle chills my mood. I use these candles throughout my house including my entrance hallway, main living room and when I'm having a bath. They really help chill my mood and have a heavenly scent, I have tried so many other makes and nothing comes close to zing organics. - Dougie. 
-
A 100% Botanically Sourced Aromatherapy Candle in a beguiling aroma blend of Pure Essential Oils of Hemp (Cannabis Flower), Patchouli, Geranium and Lemongrass devised to help you unwind on those oh so precious duvet days! This is our best selling candle and the one we refill most commonly in our Open Door Workshop at Tarbert, Loch Fyne, Argyll.
The Cannabis Flower Essential Oil we use is derived from Hemp as opposed to Marijuana and contains only trace amounts of THC's (the product can't make you high) and is perfectly legal in the United Kingdom. 
Ingredients: Non GM, Sustainable Soy Wax, Pure Essential Oils as stated. All Botanical. Vegan Friendly. Cruelty Free. Brand Purity Testing by The Chemistry Clinic at Strathclyde University of Glasgow.

Travel Size Apothecary Amber Glass Jar: Approximate burn time - 12 hours.
Medium Sized Apothecary Amber Glass Jar: Approximate burn time - 20 hours.
Gigantic Apothecary Amber Glass Jar: 40 hour burn time approx. 
We are committed to minimising packaging wastage and refills are available at 20% off RRP in our workshop or online using code SENDREFILLS

We greatly appreciate customer loyalty and invite a repeat purchase of this or any other product using code AGAIN - provides a 10% discount.
Nourishing your Soul with me Kirsty of Zing Organics.